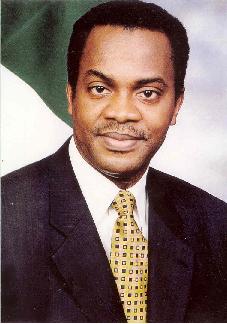 His Excellency,
Mr. Donald Duke
Governor, Cross River State
Donald Etim Duke was born on 30th September, 1961 at 16 Annesley Street, Calabar to the family of Mr. Henry Etim Duke and Mrs. Genevieve Etim Duke. The fourth in the family of five children, his father, Mr. Henry Duke, was the Chairman of the Board of Customs and Excise (now The Nigerian Customs Service) between 1967 and 1975.
Nature has an interesting, but mysterious, way of arranging the affairs of men such that the paths they tread in their earthly sojourns will often conclusively point to a predestination. So it was for Donald whose path was clearly charted towards a visible leadership role in Nigeria. He was born in the East, grew up in the West where he had his early education, attended Secondary School and University in the North and Middle Belt, received professional training back in the west and later enrolled in some of the best Universities abroad. What a balanced exposure and admixture of divergent social background. For the record, he went through primary education at Corona and Saint Mary's School in Lagos, attended Federal Government Colleges (both Unity Schools) at Sokoto and Ilorin and thereafter returned to the Federal School of Arts and Science, Lagos for his 'A' Levels. Governor Duke recalls nostalgically that it was at ABU Zaria that he first got involved in political activism when he ran for Office in the Students' Association of the Institute of Administration. This became the launching pad for more engaging leadership roles.
An Honours Graduate of Law of the famous Ahmadu Bello University (ABU), Zaria, Donald successfully completed his professional training at the Nigerian Law School, Victoria Island, Lagos, following which he was called to the Bar in 1983. Not too long after his call, he proceeded to the University of Pennsylvania, Philadelphia, one of America's leading Universities which has produced numerous world leaders of diverse backgrounds including Presidents and Heads of State/Governments, Senators and Governors, among whom Donald Duke is one. Since the object of his mission at Pennsylvania was to properly equip himself for a challenging corporate world, Donald took graduate course work at Wharton Business School, concurrently as he obtained the Master of Laws (LLM) Degree of the University with a specialization in International Business Law and Admiralty. Shortly after completing these two programmes, he joined the prestigious Washington DC Law firm of Baker & Hostetler as an Associate.
Having acquired sufficient grounding and exposure in academics, business and law practice in the United States, Mr. Duke returned to Nigeria and teamed up with some colleagues to establish the highbrow Lagos based Law partnership of Onyia & Duke. coupled with active practice, he soon assumed full management of the family's shipping business when he became Chief Executive of Hegeds International Limited.
Mr. Duke's first entry into public Governance was in 1991 when he was first appointed as a member of the Board of Directors of Voice of Nigeria. This was quickly followed by another appointment in 1992 when Governor Clement D. Ebri appointed him as a member of the Cross River State Executive Council and Commissioner for Finance, Budget and planning, during which tenure he chaired the Federation Account Allocation Committee meeting of September, 1993. The appointment as Commissioner was unfortunately short lived due to the abrupt change in Government in November, 1993.
He returned to private life in the course of which he, among other things, became chairman of Allied Merchants & Brokers Limited, a sole Africa Franchisee for US-based Uncle Ben's Rice.
As would be expected of any shining star that does not easily dim, Mr. Duke in 1996 emerged at the national scene when he was appointed as a member of the National Economic Intelligence Committee as well as the Federal Economic Council. He later served as a member of the Federal Budget Monitoring Committee and Chairman, Presidential Advisory Committee for the Privatisation of the National Fertilizer Company Limited (NAFCON). In all of these public assignments, Mr. Duke exhibited his legendary intelligence, thoroughness and high capacity for hard work, an experience which will later stand him in good stead.
An active participant in Nigeria's recent political transition programmes. Mr. Donald Duke was on 9th January, 1999 elected for a four year term as Governor of Cross river State under the platform of the People's Democratic Party.
He was within the past four years discharged the duties, shouldered the responsibilities and contained the enormous challenges of that office to the admiration of all well-meaning Cross riverians and Nigerians. Spanning virtually all key sectors of the economy, Mr. Duke has completely changed the socio-economic landscape of Cross River State through the execution of numerous people-oriented infrastructure programmes / projects such as electrification, road construction / maintenance, water supply, healthcare and urban renewal.
Among Governor Duke's notable achievements are the upgrading of the Cattle Ranch in Obanliku into a Ranch Resort, the transformation of Cross River State into a world tourism destination, real investment inflow, job creation, reform of the State Civil Service, computerization of the nominal and payroll system for the public service and cultivation of Banking culture for Public/Civil Servants, etc. Agriculture took centre-stage with the establishment of export-oriented agricultural projects for the cultivation of such crops lines as pipe-apple, castor oil, cashew and oil palm.
Education, Healthcare, Administration of Justice and inter-communal relations recorded significant strides. Described glowingly as the champion of development politics, Mr. Donald Duke was overwhelmingly re-elected for another four-year term (2003-2007) on April 19, 3002.
A widely travelled young man and a member of leading Social Clubs and philanthropic Organizations, Governor Duke is happily married to Owanari Bob Manuel Duke (nee Bob Manuel) an accomplished Legal Practitioner in her own right. The first couple of the State is blessed with three highly promising children.