Calabar Free Trade Zone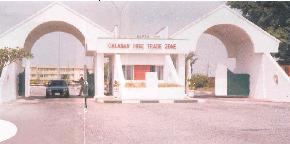 The Calabar Free Trade Zone is a friendly business location in Nigeria through:

INCENTIVES
Exemption from all Federal, State and Local Government taxes, levies and rates
Approved enterprise shall be entitled to import into a Zone, free of Customs Duty, any capital goods, consumer goods, raw material, components or articles intended to be used for purposes of and in connection with an approved activity
Freedom from legislative provisions pertaining to taxes, levies, duties and foreign exchange regulations
Repatriation of foreign capital on investment in the Zone at any time with capital appreciation of the investment
100% foreign or local ownership of a factory
One stop approvals, factory management deals with only the Regulatory Agency, NEPZA which grants all licenses whether or not the business is incorporated in the customs territory
Unrestricted remittance of profits earned by investors
Permission to sell up to 100% of total production in the domestic market on payment of appropriate duties and charges
No import or export licenses shall be required
Rent-free land at construction stage, thereafter rent shall be as determined by the management of the Zone
Foreign manager and qualified personnel may be employed by Companies operating in the Zone
Operations within the Zone shall commence on the date when the construction of the perimeter fence and gate of the Zone have been completed and the Authority has declared it so.
ACCESS TO THESE FACILITIES
Large expanse of industrial land with good access to international air an seaports
Fenced wall around the Zones with good security network
Retrained Free Zone Customs, and Immigration that will carry out the specialized customs/immigrations roles as obtained in the Free Zone worldwide
Police post to provide security for the Zone
Pre-built Zone warehouses for warehousing and storage of products pending repackaging and purchases
Efficient telecommunication facilities
Uninterrupted electricity and water supply
Good internal/external road network
Central transit warehousing facilities at major ports for efficient handling of the Free Zone goods

INDUSTRIES PERMISSIBLE
Business opportunities within the Zone include:
Electrical and electronic products
Textile products
Garments, wood products and handicraft
Leather products
Petroleum products
Rubber and plastic products
Cosmetics and other chemical products
Metal products and machinery
Educational materials and sports equipment
Printing materials
Communication and office equipment
Medical kits
Optical instruments and appliances
Biscuits, confectionery and food processing
Pharmaceuticals
Proposals for industrial set-up outside this list will be considered on their individual merit.


SUMMARY OF INVESTMENT PROCEDURES

Inquiries and obtaining Investment Application Forms
Inspection of the pre-built factory buildings and industrial plots
Submission of Investment Application Forms
Screening and processing of Application Forms
If application is approved, apply for company registration

Outright purchases of standard factory:


Payment of 10% deposit of the selling price of the standard factory building within 3 months of approval.
Payment of the balance of 90%, 5 months after


Renting of the factory building:


Down payment of one year rent required


Leasing the standard factory building:


Payment of 40% lease value on approval
Payment of 30% lease value at the end of the 1st 5 years
Payment of 30% balance at the end of the 10th year

Leasing of service plot or factory building

Pre-production inspection factory building, plant and machineries before commencement of operations.
---
For further information:






Head Office
Plot 112, Shehu Shagari Way
Behind Bullet Garden, Asokoro,
P. M. B. 037, Garki, Abuja
Tel: +234-(0)9-233060/2343062

Calabar Zone
Calabar Free Trade Zone
Off Ikot Road
P. M. B. 1200, Calabar, CRS.
Tel: +234-(0)87-210001/4, 210012/4
Web: www.nepza.com
Email: cepz@infoweb.abs.net

Lagos Office
#5, Billingsway
Oregun Ind. Estate
Oregun, Ikeja, Lagos State
Tel: +234-(0)1-4705430